Engaged employees are the ones that can drive the success of a business, and are also least likely to leave. The feeling of realizing your full potential play a large part of being engaged and 74% of employees around the globe state they are doing just that in their current job. This sentiment was much higher in Singapore, Hong Kong SAR and Malaysia with 83% of employees stating that they are realizing their full potential.
hong kong SAR
79% of Hong Kong SAR employees felt their potential was being reached in their roles. This sentiment was similar across all demographics, and is the closest to the global average.
singapore
Surpassing the global average of 74%, 81% of employees in Singapore felt that they were realizing their full potential in their current roles. Men were slightly more fulfilled than women by three percent, while more senior employees, aged 35 to 54 were two percent more fulfilled than their younger counterparts, aged 18 to 34.
malaysia
Malaysian employees were the most satisfied with almost nine in ten (89%) feeling that they were realizing their potential in their roles. Interestingly, showing an opposite demographic trend to that of Singapore, female and younger employees felt the most fulfilled.
Michael Smith, Managing Director, Randstad, Singapore, Hong Kong SAR, Malaysia noted, "The results look very encouraging with over eight in ten employees across Singapore, Hong Kong SAR and Malaysia feeling that they are realizing their full potential in their roles. However, while these results look positive, statistics also show that slightly over nine in ten feel that they need more training to stay up to date with their skills. This shows that while employees feel they are maximising their current skillsets, they are quickly understanding that more needs to be done to ensure they stay relevant. Organisations need to ensure that they are doing as much as possible to expand the skillsets of their workforce or they risk losing their best talent."I am realizing my full potential in my current job (%)
I am realizing my full potential in my current job (%)

I feel I need more training/education to stay up to date (%)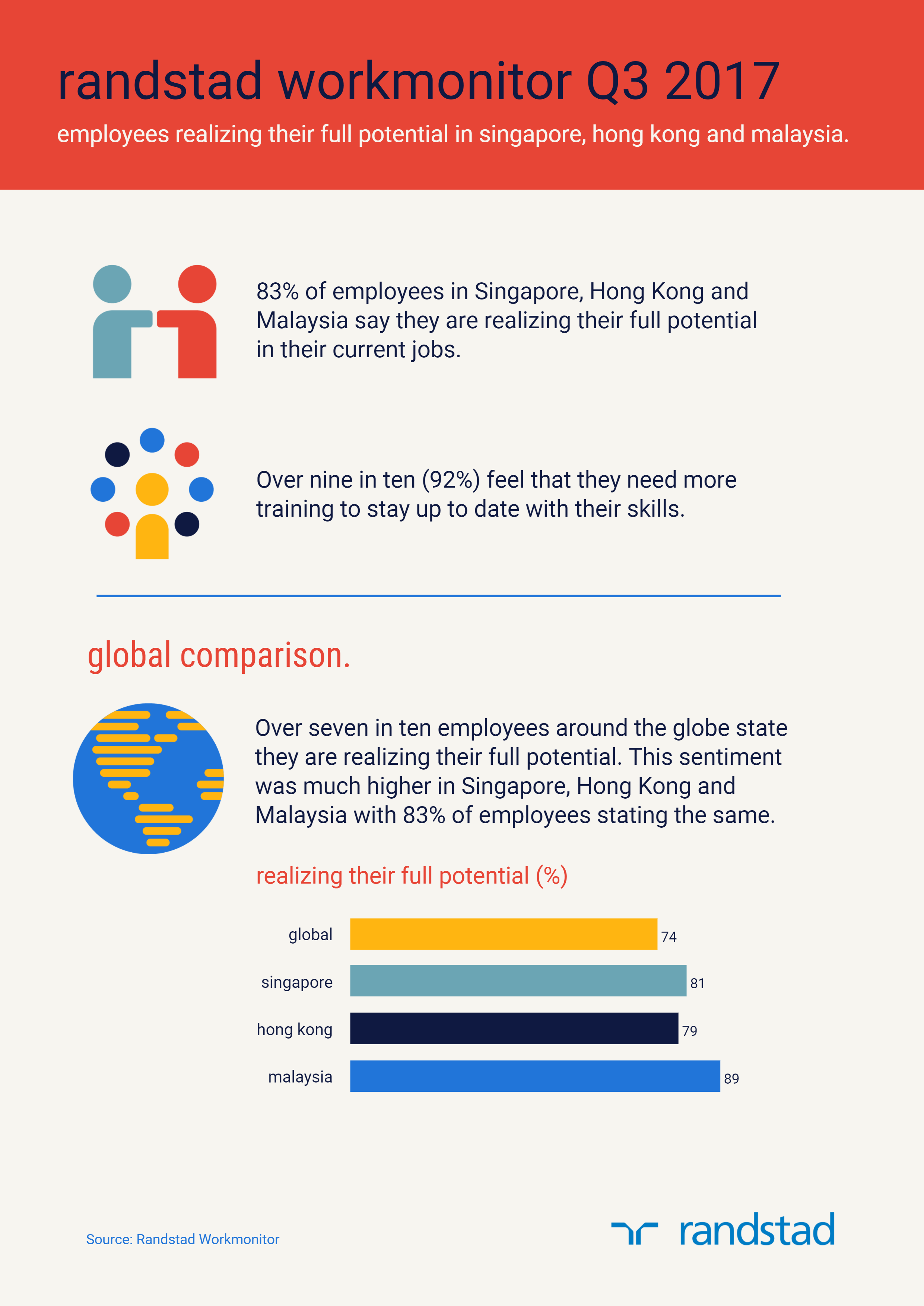 about the randstad workmonitor
The Randstad Workmonitor was launched in the Netherlands in 2003 and now covers 34 markets around the world, encompassing Asia Pacific, Europe and the Americas. The Randstad Workmonitor is published four times a year, making both local and global trends in mobility regularly visible over time. The Workmonitor Mobility Index, which tracks employee confidence and captures expectations surrounding the likelihood of changing employers within a six month time frame, provides a comprehensive understanding of job market sentiments and employee trends. In addition to measuring mobility, it provides insights into employee satisfaction and personal motivation, as well as explores sentiments around key trends shaping the world of work for employees each quarter. The quantitative study is conducted via an online questionnaire among a population aged 18-65, working a minimum of 24 hours a week in a paid job (not self-employed). The minimal sample size is 400 interviews per market, using Survey Sampling International.
about randstad
Randstad is a global leader in the HR services industry, with Asia-Pacific operations in Singapore, Malaysia, Hong Kong SAR, China, Australia and New Zealand. Our offices in Southeast Asia have been supporting people and organisations in realising their true potential, helping find the best permanent and contracting talent in accounting & finance, banking & financial services, construction, property & engineering, corporate & secretarial support, human resources, information technology, legal, life science, sales, marketing & communications and supply chain & procurement.Human connection is at the heart of our business. Our personal approach, supported by state-of-the-art technology, is what sets us apart in the world of work. We express this with a new brand promise: Human Forward.
Hear what our leaders have to say about #HumanForward or head over to our new website and learn more about our Human Forward brand promise.
related content: