The emergence of Millennials in the workforce yearning for work-life balance as well as media attention towards rising startups across the world has led to the apparent rise in preference for flexible small to medium enterprises (SMEs) and innovative startups. The Randstad Workmonitor research report has revealed that employees in Singapore, Hong Kong SAR and Malaysia, however, still have a strong preference for large multinational corporations (MNCs).
working for large multinational corporations
Globally, 64% of employees stated an overall higher preference for SMEs when compared to MNCs and Startups. Employees in Singapore, Hong Kong SAR and Malaysia however bucked global trends, where we see an average of 75% of respondents preferring to work for big global companies.

Millennials across all three markets in particular exhibited a strong preference for MNCs. The survey revealed that on the average 81% of Millennials preferred to work for MNCs, compared to only 67% for SMEs and 60% for startups.
millennials aged 18 - 34
Older employees, aged 35 to 54, in Singapore and Malaysia also mirrored this sentiment whereas those in Hong Kong SAR highlighted a higher preference for SMEs.

aged 35 - 54
Managing Director for Randstad Singapore, Hong Kong and Malaysia, Michael Smith noted, "Our Employer Branding Research report has shown that work-life balance and job-security are the two key factors that have been increasing in popularity in the recent past.

It's not surprising that many employees in the region are turning towards MNCs which tend to place more emphasis on these important employer branding aspects." "Typically we have seen that MNCs, especially in Singapore, Hong Kong SAR and Malaysia, tend to be the dominant employers in their respective markets.
They have been able to successfully leverage their global brand and reputation, along with strong resources and company culture, to attract job-seekers. However, as these markets continue to mature, we are starting to see local SMEs adapt quicker to the agile work conditions increasingly desired by employees to engage and attract better talent. It will be interesting to see how sentiment towards working for SMEs and startups change as the regional economy recovers," added Mr. Smith.
employees prefer working for large MNCs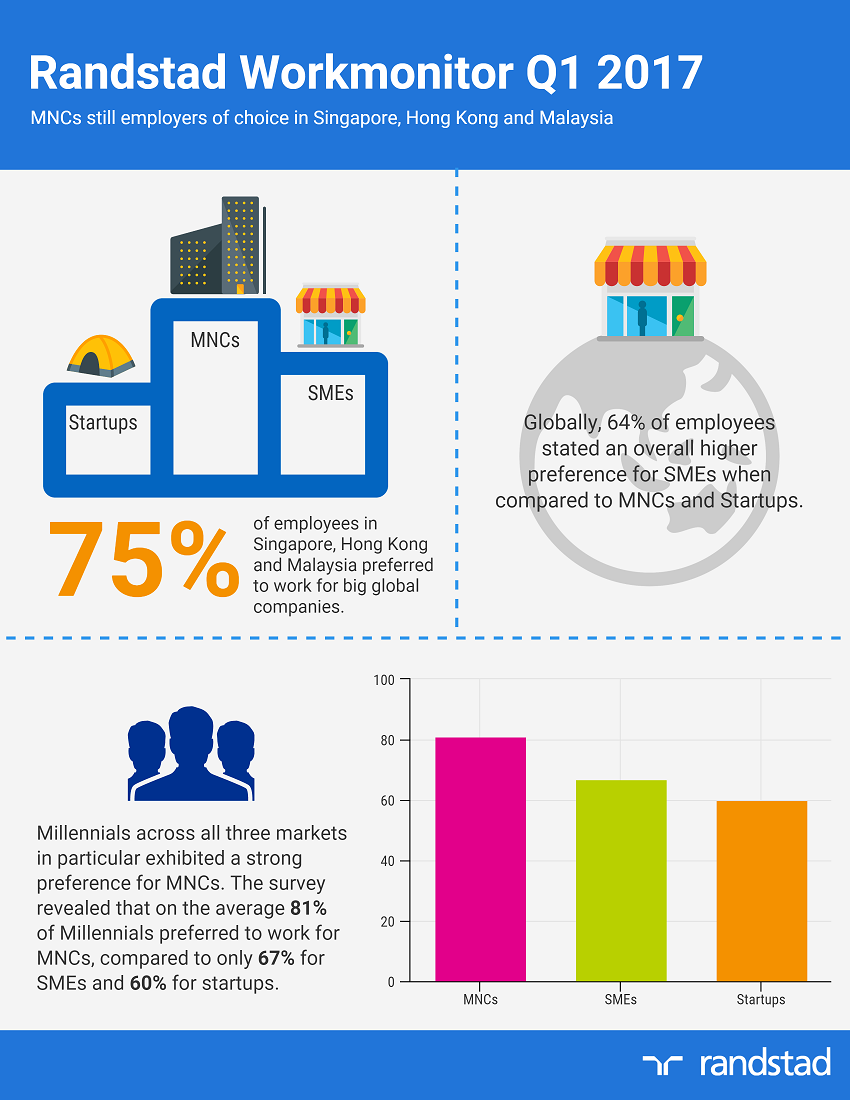 about the Randstad Workmonitor
The Randstad Workmonitor was launched in the Netherlands in 2003 and now covers 34 market around the world, encompassing Asia Pacific, Europe and the Americas. The Randstad Workmonitor is published four times a year, making both local and global trends in mobility regularly visible over time. The Workmonitor Mobility Index, which tracks employee confidence and captures expectations surrounding the likelihood of changing employers within a six month time frame, provides a comprehensive understanding of job market sentiments and employee trends. In addition to measuring mobility, it provides insights into employee satisfaction and personal motivation, as well as explores sentiments around key trends shaping the world of work for employees each quarter. The quantitative study is conducted via an online questionnaire among a population aged 18-65, working a minimum of 24 hours a week in a paid job (not self-employed). The minimal sample size is 400 interviews per market, using Survey Sampling International.
about Randstad
The Randstad Group is a global leader in the HR services industry and specialises in solutions in the field of flexible work and human resources services. Our services range from regular temporary Staffing and permanent placements to Inhouse Services, Professionals, and HR Solutions (including Recruitment Process Outsourcing, Managed Services Programs, and outplacement). By combining our human touch with technology-driven solutions and tools, we aim to offer both clients and candidates the best tools and solutions for increased efficiency and engagement, connecting more people to more jobs. Randstad has top-three positions in Argentina, Belgium and Luxembourg, Canada, Chile, France, Germany, Greece, India, Italy, Mexico, the Netherlands, Poland, Portugal, Spain, Sweden, Switzerland, the UK, and the United States, and major positions in Australia and Japan. At year-end 2016, Randstad had 36,524 corporate employees and 4,752 branches and Inhouse locations in 39 markets around the world. In 2016, Randstad generated revenue of €20.7 billion. Randstad was founded in 1960 and is headquartered in Diemen, the Netherlands. Randstad Holding nv is listed on the NYSE Euronext Amsterdam, where options for stocks in Randstad are also traded.